Are you travelling to Crete soon? But you are wondering where to stay, what to visit and also how to get there? In this article, we will try to answer all the questions you may have.
First of all, Crete is the largest island of Greece, located in the Mediterranean Sea, so it is part of Europe. It extends 255 km from East to West and 55 km from North to South in its greatest width.
To take full advantage of its diversity, we recommend that you focus on one part of the island during your 1 or 2 week stay and come back next year to continue the discovery of this wonderful island!
How to go to Crete?
By plane
From France :
In low season, you will find direct flights only from Paris or Nice.
During the high season, direct flights are available from Marseille, Bordeaux, Lyon, Nantes, Nice, Paris and Toulouse.
From Athens:
In both low and high season, there are direct flights of 50 minutes to Heraklion or Chania from Athens.
For your flights, we advise you to look at and book flights via the flight comparator Ulysses or directly by the Greek national airline Aegean, which offers a good quality/price ratio.
By ferry from Greece
There are regular connections between Attica and Crete:
Departures from Piraeus or Rafina depending on the season
Arrivals at the ports of Chania, Heraklion or Sitia in Crete
By the way, we explain everything in this article:
How to get around the island?
There is a Ktel bus network on the island, but some villages are not or only slightly served and travel times are often long.
We strongly advise you to travel by car, especially if you wish to visit the more remote areas of the island. Moreover, to rent a car, we recommend the Rentalcars website to compare the rates of the different car rental companies on the island. However, be careful about driving in Crete: the hard shoulder is often used as a traffic lane!
If you want to use the services of a cab, transfers or private excursions with driver, we recommend the services of Maxi Transfers. It is held by Argyro who speaks French.
In Rethymnon, we also recommend the Baja Bikes rental agency. It offers rental of city bikes, trekking bikes and electric bikes for the mountains. As well as a 6-hour guided tour by electric bicycle in English to discover Rethymnon and its surroundings.
Another way to get around the island is to book a day trip through Get Your Guide for example. In fact, many tours offer a bus pick-up directly from your hotel. A good way to visit the must-sees of Crete without the stress of transportation! We have made a small selection of the best excursions around Heraklion. However, there are also excursions with departures from the hotels in Chania, Rethymnon or Agios Nikolaos.
Where to stay in Crete?
First of all, for your accommodation, don't hesitate to look on Booking and Airbnb websites, many rentals for all budgets are proposed.
But also, in our articles, you will find a selection of accommodations that we have tested ourselves or that have been recommended to us:
Also, if you want to treat yourself to a vacation, check out these dream villas offered by Villanovo.
What is the weather like in Crete in summer?
Hot of course! Generally, the south of the island is still a little warmer, count 3 degrees more than the north of Crete.
But the sea is so beautiful that you will have the opportunity to refresh yourself very regularly.
Take a look at our article on the most beautiful beaches of the island to start dreaming…
Where is the best place to stay in Crete?
A difficult question to answer! Crete is a huge island that you will not be able to discover entirely in one stay. As the crow flies, the distances seem short but in some parts like the mountainous south of the island, it is not uncommon to take more than an hour to travel 30 kms. We advise you to stay at least one week in each region of the island.
And to help you make your choice and know where to sleep in Crete, we have made a summary (not exhaustive) of the different things to do and see in each part of the island.
What to see? What to do in Crete?
Heraklion and its surroundings
The port city ofHeraklion, capital of Crete, is a must-see on the island. Fortress, museums, walk, beach, aquarium, aquapark… There is something for everyone!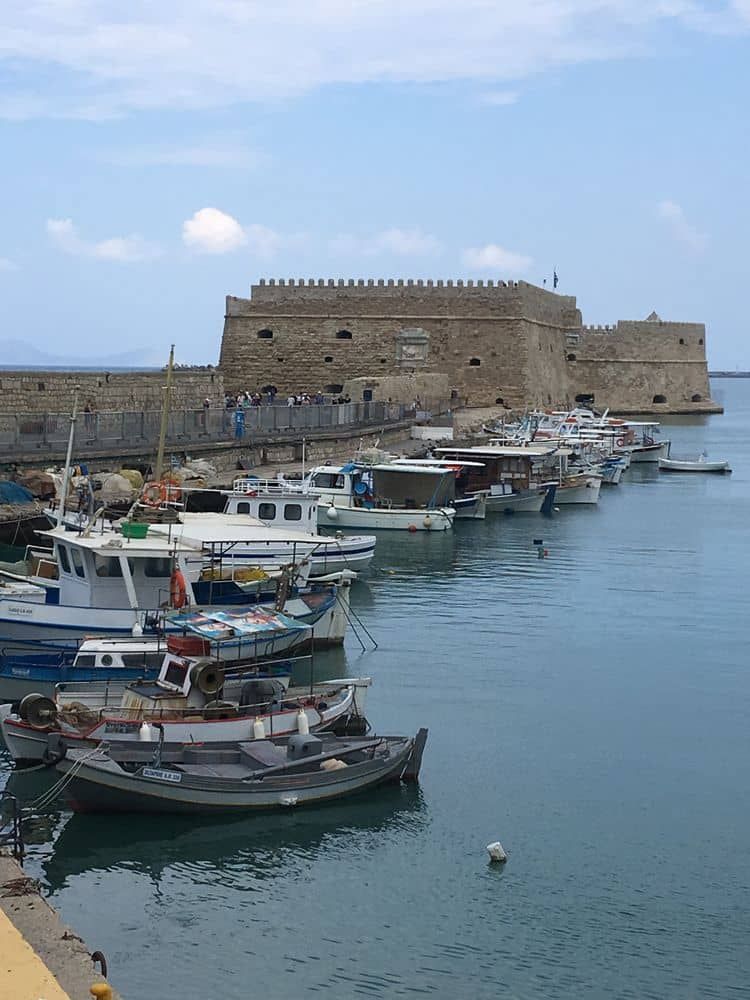 It is also the starting point for many excursions:
The city ofHeraklion, its fortress and its archaeological museum
The famous palace of Knossos linked to the legend of the labyrinth of the Minotaur. To get a better idea of the site, we recommend this 3D visit that can be downloaded to your smartphone
Moreover, to know everything about Heraklion, find our advice in the article Transport, hotels, restaurants in Heraklion: Good addresses and practical information
West Crete
To visit the west of the island, the tourist and must-see region of Chania is a good place to stay. Discover our tips and good addresses for accommodation and restaurants as well as a one-week itinerary to help you prepare your trip.
As a summary of the article « Visiting Western Crete », here are the places to visit in this region of the island:
Chania, a Venetian city with Mediterranean charm
The monasteries of the Akrotiri peninsula: Monastery of Agia Triada, Monastery Agios Governetou from which we reach the ruins of the monastery Katholico located in a gorge. A nice walk of 45 mins to go down there, access by a path passing by the cave of Saint Jean l'Ermite and which ends in front of the sea.
The lagoon of Balos and the island of Gramvoussa where a fortress is located. A heavenly place with turquoise sea and white sand beach.
The Agia Sofia cave and its small chapel in the Topolia gorge
The beautiful beach of Elafonisi and its pinkish white sand
The beach of Kedrodassos
The Samaria Gorge for nature lovers and hikers
The Aradena Gorge
The Imbros Gorge
Rethymnon, its old town with Venetian and Turkish inspirations, and its impressive fortress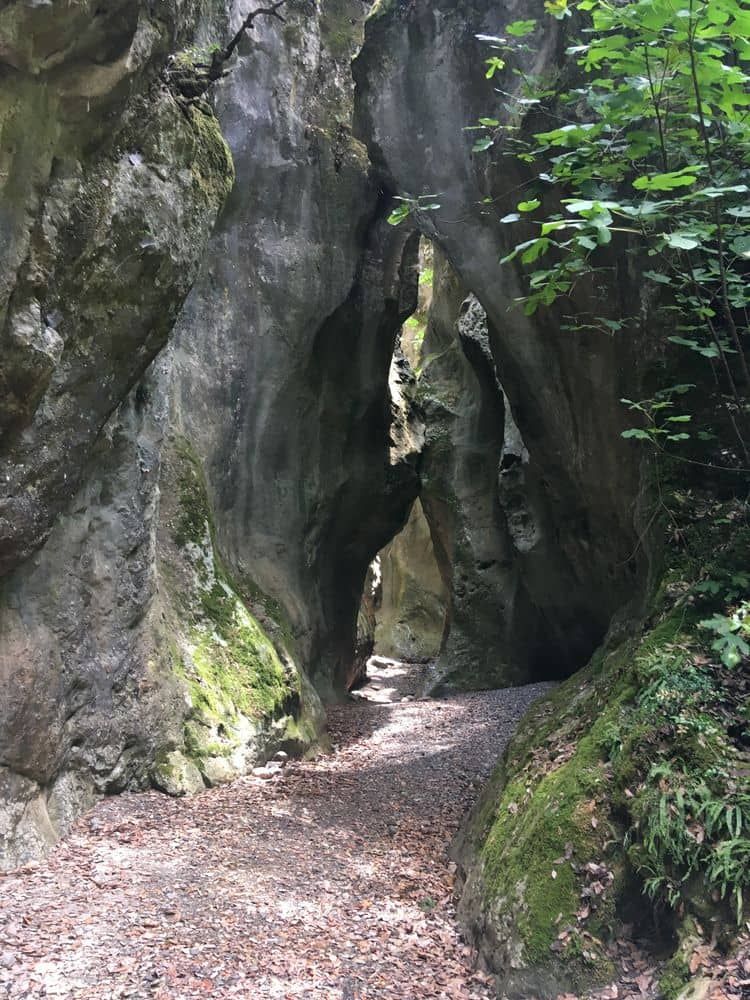 Southeast and East Crete
More wild and less touristy, discover in our article an authentic Crete described by Anastasia, a Cretan.
In short, some points of interest detailed in the article :
The village of Koutsounari
The village of Ierapetra
The island of Chrissi and its beaches for a lazy day in a heavenly setting
The Mylonas gorge and its waterfall
The beaches of Agia Fotia, Galini and Kakia Skala (starting point to see the waterfall)
The small village of Kato Zakros, its port, its beaches and the ruins of its Minoan palace
Hiking from Zakros: European path E4 and the valley of Morts
The beach of Vai and its palm grove
Further east, the island of Spinalonga, steeped in history, is one of the most visited sites in Crete.
The plateau of Lassithi and the cave of Psychro or cave of Zeus because according to the legend, Zeus was born there.
The South of the island
What if you went to discover the south of Crete, authentic and wild?
By the way, here are some places recommended by our Cretan friend Anastasia:
The village of Kousés, an authentic village with a kafeneio of course and the famous Votano herbal and tea store
The archaeological site of Phaistos
The beautiful beaches of Agios Pavlos
Agiofarago Beach
The beach of Matala and its famous neolithic caves popular with hippies in the 1960s
The region of Kapetaniana, a wild area of Crete and far from the floods of tourists to do horseback riding, hiking, diving …
The small seaside village of Frangokastelo, its Venetian castle and its beach
The waterfalls of Argyroupoli
The small port of Loutro, ideally located to discover the plateau of Anopolis. Accessible by boat or by paths, it is a paradise for hikers.
And to learn more, everything is explained in detail in our article below.
Where and what to eat in Crete?
The Cretan cuisine will probably not leave you indifferent: tasty, very generous dishes prepared with fresh and local products. Indeed, every region in Greece has its specialties and Crete is no exception.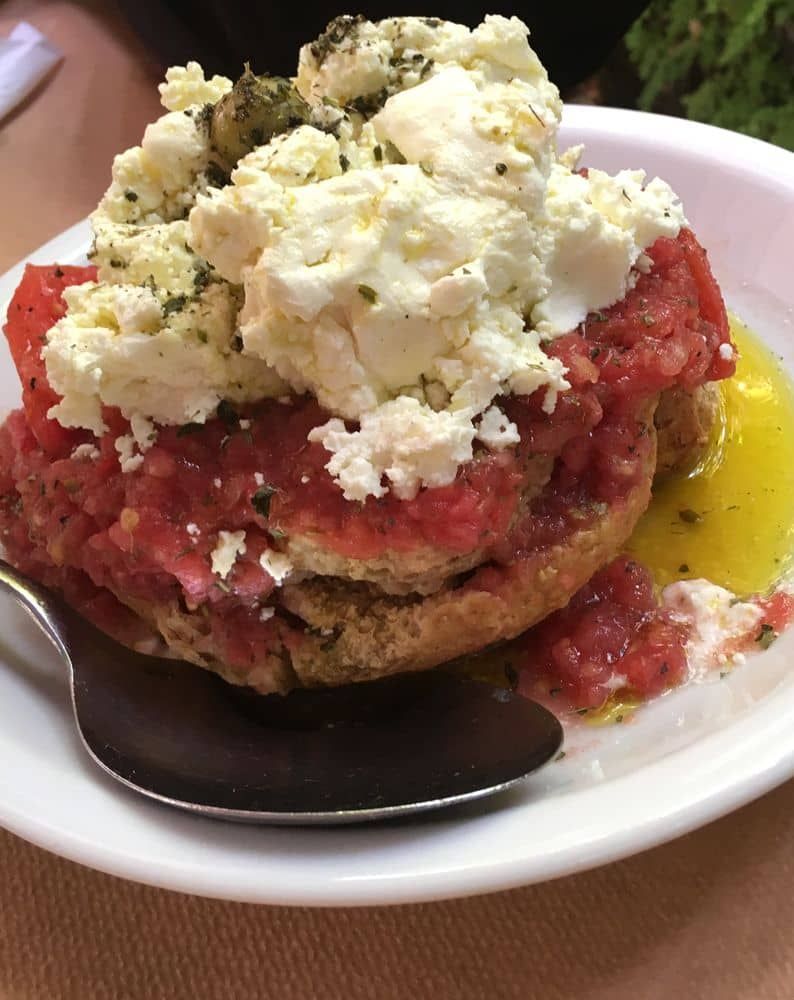 To learn more, Evi wrote this very interesting article on Cretan cuisine.
By the way, we recommend you some addresses of tested and approved taverns, divided by region:
So, did we convince you?
In short, with this article you are ready to prepare your trip.
Finally, we wish you a pleasant vacation in Crete, hoping that you will enjoy this island as much as we do and already plan to return!
Virginia W.