How to find an island near Athens ? Greece is known all over the world for its numerous islands, of which a little less than 200 are inhabited. Some of them are very easy to reach from Athens. We therefore propose you to explore the islands closest to Athens. That is to say, those that are less than two hours by boat from the Greek capital. Perfect excursions for a day or a weekend.
The islands at 2 hours from Athens
Here are a few lines:
The island of Euboea, the great wild one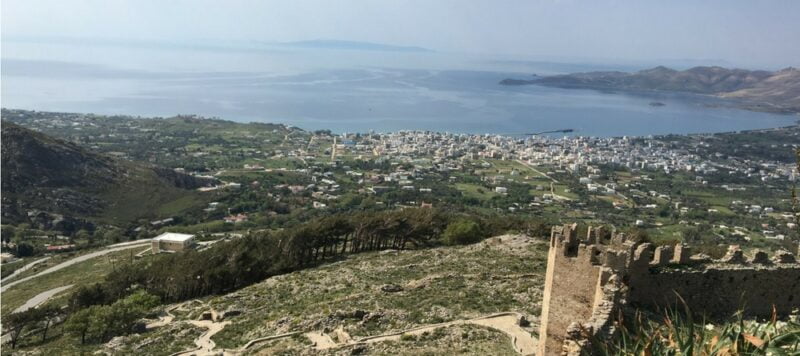 The island of Euboea, called Evia in Greekis large by its surface and the diversity of landscapes and activities it offers.
In the North, beautiful forests of pine trees but also the thermal city of Loutra Edipsou where you can bathe in any season, or the picturesque little port of Limni. Unfortunately this area was very affected by the terrible fires of summer 2021.
The center is more urban with the cities of Chalkida and Eretria where you will be able to discover archaeological sites.
The South, finally, also offers a lot of contrasts: you can hike on Mount Ochi or laze on the shelteredbeaches of Karystos Bay.
Kea, the island of the Athenians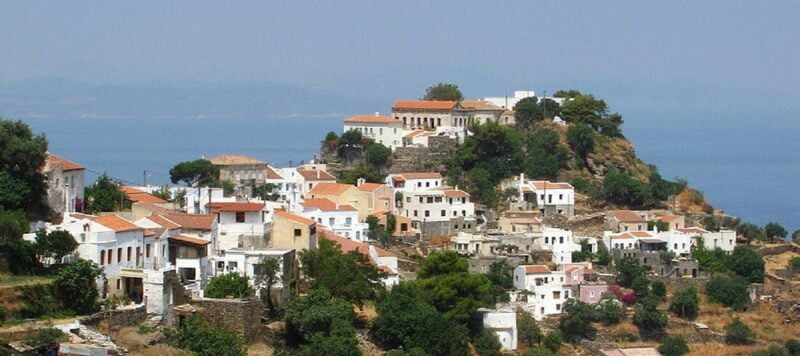 Kea (or Tzia) is an island full of charm: green valleys , steep cliffs and the beautiful village of Loulida , home to the famous Lion of Kea. Elsewhere on the island, you can go on beautiful hikes leading to hamlets and small beaches.
To enjoy the place, choose to go there outside weekends and do not hesitate to leave the very touristy port of Korisia. What to see and do in Kea?
The island of Aegina, the cultural one
What you will enjoy in Egine is its historical dimension and the sites of its glorious past. What few other islands have. Aegina, a trading post and a maritime power, played an important role in ancient Greece, especially during the battle of Salamis. You can admire the remains of temples and the Byzantine village of Paleochora.
Beyond this cultural aspect, you will appreciate the numerous activities that the island offers. Thus, you will benefit from ports of Hora and Perdika. For swimming, you can go to the Moni islet by boat, natural reserve with beaches and famous for its nice diving spot.
Agistri (or Angistri), the miniature island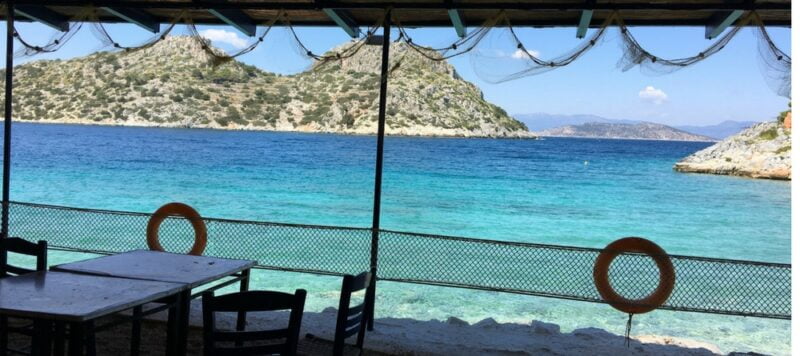 Take all the characteristics of a Greek island: wild coves, small harbors, pine forests, olive groves, pebble or sandy beaches with crystal clear waters and isolated chapels… place them on a territory 6 km long by 2 km wide and you have Agistri (or Angistri).
On foot, by bicycle or scooter you can explore the island easily and discover surprisingly varied landscapes varied landscapes. The ports of Skala and Myli are full of life in summer. You will easily find nice places to stay and eat.
Poros, the peaceful island
Poros, halfway between Aegina and Hydra, owes its island status only to the narrow channel (200 meters) that separates it from the mainland. Nevertheless, it keeps the softness of the islands with its port with pastel colored houses.
You will find beautiful and protected beaches (Askeli, Russian Bay). Unfortunately, a few large hotels spoil the scenery a bit. We find however quickly a preserved landscape inland, covered mainly by forests and home to a beautiful monastery as well as the ruins of a temple of Poseidon.
Finally, Poros is ideal for a stopover during your discovery of Epidaurus, Hermioni or Nafplio.
Hydra, the inspiring and chic island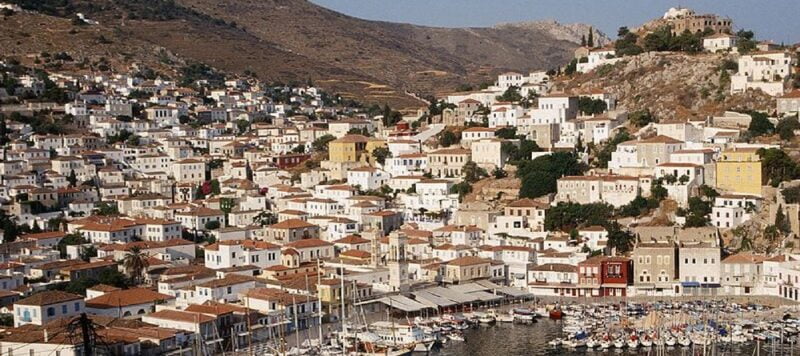 What will seduce you in Hydra is first and foremost its port. The white houses with orange roofs, organized around a maze of stairs leading to the sea. Here, no car or scooter, the island is entirely pedestrian. The luggage is transported by donkey or mule and we walk on foot. And it is a great pleasure to discover the house of Lazaro, the Kimisis Tis cathedral or the Museum of the Archives.
It is this quietness of an island without vehicles that one comes to seek. It has inspired many artists (Sophia Loren and Leonard Cohen among others) and is still today a chic place, as evidenced by the yachts anchored in the harbor. Numerous bars, taverns, restaurants allow to spend nice evenings. The nightlife is lively.
The rest of the island is arid and rocky, with paths leading to small ports or bays. However, do not count on pretty sandy beaches, in Hydra the pebble is king!
Kythnos, little known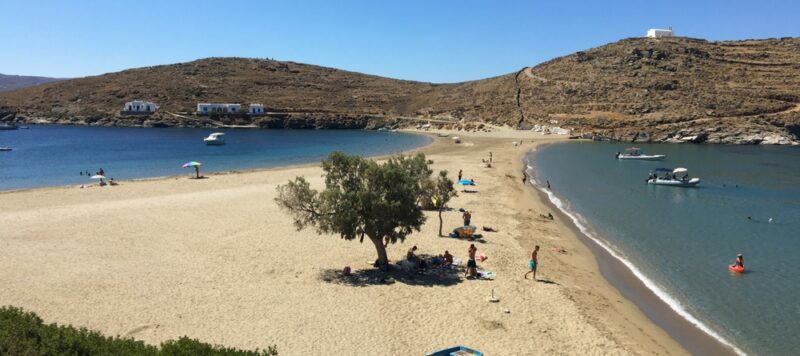 Kythnos is a small island in the Cyclades. We find there both pretty white villages and beautiful beaches beautiful beaches often nestled in small preserved creeks. The island is still wild and often arid, the iron soils give a beautiful red color to the landscape. In addition, the charming little port of Loutra is known for its thermal baths.
Crossings to the islands near Athens – summary
Here are the links for more information on schedules and to book your boat trips to the Greek islands:
Kea From Lavrio, quick crossing by hydrofoil or catamaran (1h)
Aegina From Piraeus, quick crossing by hydrofoil or catamaran (40min) or ferry (1h)
Agistri: From Piraeus, quick crossing by hydrofoil or catamaran (1h) or ferry (2h40)
Evia From Rafina to Marmari, from Aghia Marina to Nea Styra or by the bridge of Halkida. (The tickets are not available online, the link will lead you to the schedule but for the reservation it is necessary to inquire at the ports).
Poros From Piraeus, quick crossing by hydrofoil or catamaran (1h) or ferry or from Galatsa, a simple ferry to take in Galatsa (10min)
Hydra: From Piraeus, fast crossing by hydrofoil or catamaran (1h45) or by ferry
Kythnos From Lavrio, quick crossing by hydrofoil or catamaran (1h40)
You can also opt for a cruise to the islands near Athens which will allow you to discover Aegina, Poros and Hydra.
Ports of departure from Athens
Rafina? Lavrio? Piraeus ? To know everything about the ports of Athens (which one to choose, how to get there, practical information), consult our article on the ports of Athens.
Sophie B.